வேறு சில அலுவல்களின் ஈர்ப்பினால் பாரதியை கவனிக்க இயலவில்லை ...S.O.S.. I need some help here..Lost touch with his poem, after school days...
Bharathi is my rock star!!
Please google and just 'cut & paste' your favorite Kavithai of Mahakavi
Bharathiyar, our national poet
..Let exchange our thoughts by using his poem as a platform.
Tamil-script is perfectly a welcoming one here
..I would be very greatful, if members could share the respective audio streaming links.
Also, post some movie song lyrics, which were adopted from his poems.
Audio link:-
http://www.raaga.com/channels/tamil/moviedetail.asp?mid=T0001355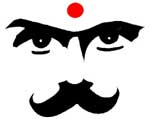 Last edited: