I have to admonish the Union Railway Minister...He has not learnt the lessons...Some Maintenance work was going on two days back..Who gave the green signal to aloow the train at normal speed..The buck should stop at the Union Railway Minister...The Minister should do his duty effectively...His incorruptibility alone cannot be the benchmark!!
[h=1]
Prabhu must own responsibility for derailment: Congress
[/h]August 20, 2017 20:07
---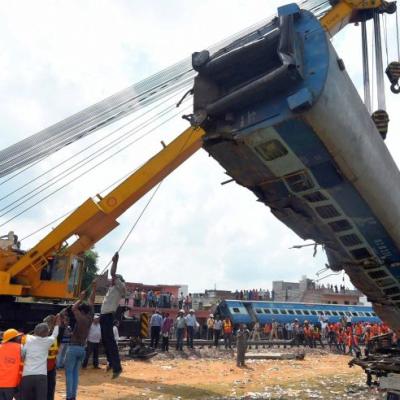 The Congress today said Railway Minister Suresh Prabhu should own responsibility for the Utkal Express derailment and accused him of setting a "new record in laxity".
It also said that no amount of conspiracy theory could absolve the BJP government of blame for the death of 21 passengers.
"The dismal safety record of the Modi government is reflected in 27 major railway accidents since May 2014 which have resulted in the death of 259 passengers and serious injuries to 899," AICC in-charge of communications Randeep Singh Surjewala said.
He said it was time to reset priorities and allocate budget for railway safety protocols vis-a-vis the "bullet train jumlas".
Surjewala said initial reports suggested that a "massive miscommunication" led to derailment of at least 14 coaches of the Haridwar-bound Kalinga-Utkal Express in Khatauli.
"This is a sad commentary on the absence of safeguards as also vulnerability with which the train system operates, not to mention the criminal negligence involved," he said.
The Congress leader alleged that "Prabhu and railway authorities appear to be setting new records of laxity and unpreparedness with regard to the safety and security of passengers".
"Times demand that Railway Minister Suresh Prabhu must own responsibility. Forget bullet trains, 27 train accidents have taken place since the Modi government took office and six major tragedies have taken place in Uttar Pradesh alone in the past 15 months.
"Every time there is an accident, the railway authorities invent a fresh conspiracy to wash their hands of culpability but facts speak otherwise," he said.
Taking a jibe at Prabhu, Surjewala alleged the railway minister, who "continuously unveils grand schemes of privatisation" and spends majority of the time on Twitter, had "utterly failed" to perform his primary duty of securing passengers.
http://news.rediff.com/commentary/2...ent-congress/59ca07879f298b4d1fac5d4a6c2e9987