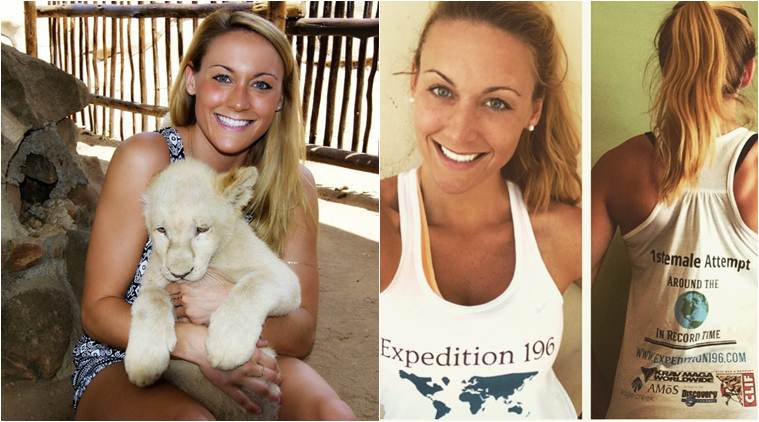 Often we mistake a traveller and explorer to be synonymous, but in reality they mean different things. While a traveller visits places for just the pleasure, an explorer goes deeper; and 27-year-old Cassandra De Pecol can certainly be called an explorer.
Pecol has been back-packing around the world solo, as an ambassador of peace, and when we say the world, we really do mean it. Pecol is on a voyage not to visit some 100 countries, but to break a world record by being the first woman to travel to all 196 countries (if you recognise Taiwan as a sovereign state, otherwise the number is 195). She hopes to achieve the dream and become the fastest person to travel to all sovereign countries.
With help from the International Institute for Peace through Tourism (IIPT), she started her lone expedition in July 2015. As of now, she's already visited 181 countries and travelled across all the continents. In order to set the Guinness World Record, she has to complete her journey in less than three years and three months. "Filming her journey of discovering some of the most unknown and unique corners of the world to showcase their beauty," she travels with a mission to talk about peace and sustainability. As part of her trip she visits many schools and colleges interacting with young minds.
Born in Connecticut, USA, "Cassie's interest in sustainable tourism evolved after attending her first year at Long Island University – Global College in Costa Rica." According to her website, "At the age of 19 she decided to 'plunge' into the world of eco tourism by physically travelling to and working at various hotels around the world." With very little money to spare, she did odd jobs to sustain herself through these expeditions. "She had worked her way through her travels by sweeping floors, serving tables and planting seeds," it says.
Her journey in 2010 was not a solo trip, with only $2,000 in pocket she set out for Europe along with her brother Jason. But soon she got a hang of it, realising that it is the only thing she ever truly wanted and continued travelling solo for the next few years.
Whether she will break the Guinness record or not, one thing is for sure, she has seen more than most of us will ever see in our lifetime.
http://indianexpress.com/article/li...aster-person-to-do-so-record-attempt-4370607/