Is Kamal getting serious by the day in joining politics! Is there space in TN for a Leftist cum rationalist?
[h=1]
Saffron is not my colour, says Kamal Haasan after meeting Kerala CM
[/h]
September 01, 2017 19:09
---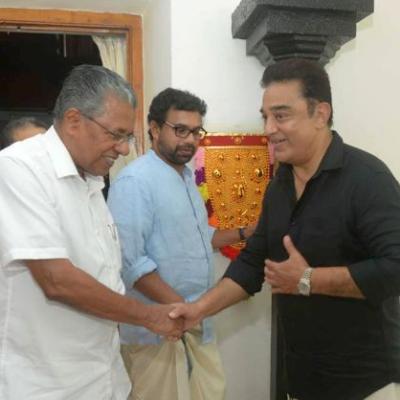 Amid speculations over his entry in politics, actor-director Kamal Haasan today met Kerala Chief Minister Pinarayi Vijayan in Thiruvananthapuram
Speaking to reporters Haasan said, "I have been talking to the Kerala CM about it
(political entry)
, taking advice. I will meet more politicians before I make my call."
When asked about his political affiliation, he said, "I have been in films for 40 years. I have many colours, but my colour is not saffron."
After the visit, Hassan said he wanted to come and meet Pinarayi Vijayan last year itself but couldn't come because of an accident.
"This is a learning experience for me", he said.
"It was a friendly visit. But, politics was part of our talk. We spoke about south Indian politics and happenings in Tamil Nadu," Vijayan said after the meeting.
http://news.rediff.com/commentary/2...ng-kerala-cm/264baabcbe36db804f31d59af01a737d