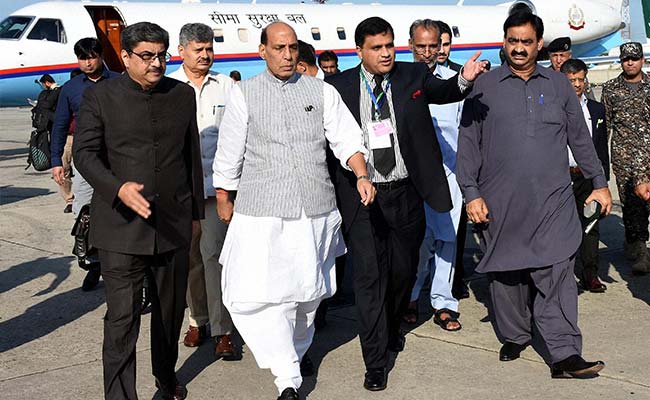 Home Minister Rajnath Singh is in Islamabad for SAARC meet. (PTI)



ISLAMABAD, PAKISTAN: Home Minister Rajnath Singh delivered a stern message to Pakistan from its own soil, as he said at the SAARC summit in Islamabad: "There should be strongest action not only against terrorists or organisations but also against individuals, organisations and nations who support terrorism."

In a speech that was blacked out by Pakistan media, Mr Singh added that "there should be no glorification of terrorists as martyrs" - a reference to the Pakistan government and terrorist Hafiz Saeed lionizing Hizbul Mujahideen terrorist Burhan Wani, who was killed by security forces in Kashmir on July 8.

The speech was not aired in Pakistan's state-run PTV; Indian crew were not allowed to shoot it either.


​

Mr Singh's visit has been clouded by visible signs of bitterness between the two countries, especially over a series of provocative comments emerging from Islamabad on Kashmir and Wani.

This morning, he barely shook hands with his Pakistani counterpart Nisar Ali Khan as they met for the first time before the SAARC meeting.

The Pakistani minister was receiving ministers at the entrance of the Serena Hotel when the two came face to face. The leaders barely touched their hands before Mr Singh walked off towards the meeting.

Even then, members of the Indian media were kept at a distance by Pakistani officials, which led to a verbal clash between officials of the two sides.

As Mr Singh arrived in Islamabad yesterday, anti-India protests in various cities featured terrorists like Hizbul Mujahideen's Syed Salahuddin and 26/11 mastermind Hafiz Saeed of the Lashkar e Taiba, who roams free in Pakistan.