Is this a facade being put by Pakistan to hoodwink international authorities...Most likely!!
[h=1]
Pakistan okays law to ban Hafiz Saeed and other UN-listed terrorists
[/h]February 14, 2018 08:01
[HR][/HR]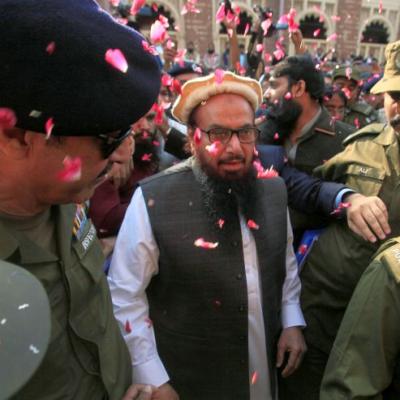 Keen to avert international sanctions, Pakistan has quietly amended its anti-terror laws to include Hafiz Saeed-linked Jamaat-ud-Dawah and Falah-i-Insaniat Foundation and other terrorist outfits on the list of UN proscribed groups, a media report said.
A major impact of a new ordinance promulgated by Pakistan President Mamnoon Hussain would be the proscription of Saeed-linked JuD and FIF along with the UN listed outfits of Al Akhtar Trust and Al Rashid Trust, Dawn newspaper reported.
Saeed, the mastermind of the 2008 Mumbai terror attack, heads the charity JuD, believed to be a front for Lashkar-e-Tayiba terror group.
The move to amend the Anti-Terrorism Act, 1997 ends an old discrepancy between the UN sanctions list and the national listing of terrorist groups and individuals, the report said.
It has come ahead of the crucial Financial Action Task Force meeting in Paris, scheduled to be held from February 18 to 23.
The US and India are spearheading an effort to get Pakistan included in the watchdog's international money-laundering and terror-financing 'grey list', the paper said.
Pakistan was last placed on FATF's grey list in February 2012 and stayed on it for three years, the report said.
Last week, Pakistan's National Security Committee had directed the "ministries concerned to complete the few outstanding actions at the earliest".
http://news.rediff.com/commentary/2018/feb/14/pakistan-okays-law-to-ban-hafiz-saeed-and-other-unlisted-terrorists/464d125e094ddf9e007bee7e4e038160