Invigorating speech! A political saga comes to an end? Pranabda had his eyes on becoming PM when Indira Gandhi was assassinated!! Not sure if he will take up a second innings in politics after his term as President comes to an end today!
My temple has been the Parliament: Prez Mukherjee's final address
July 24, 2017 19:46
---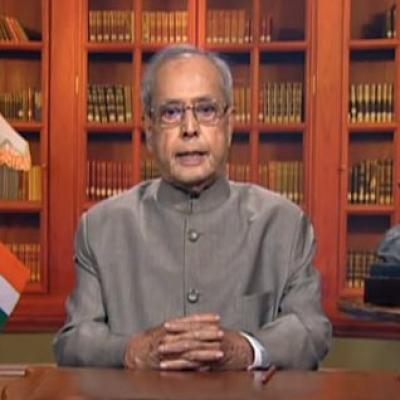 Pranab Mukherjee delivers a powerful address to the nation -- his final one as the President of India. On July 25, President Pranab Mukherjee's term as President will come to an end as Ram Nath Kovind is sworn in.
A day before he demits office, Pranab Mukherjee addresses the nation. Here are highlights:
>> For the past 50 years of my public life, my secret text has been the constitution of India
>> My temple has been the Parliament of India, my passion has been the service of the people
>> I have received much more from the country than I have given; for that, I will remain ever indebted to people of India
>> The soul of India resides in pluralism and tolerance
>> The multiplicity in culture, faith and language is what makes India special
>> We derive our strength from tolerance; it has been part of our collective consciousness for centuries
>> There are divergent strands in public discourse; we may argue, we may agree or we may not agree. But we cannot deny the essential prevalence of multiplicity of opinion
>> We must free our public discourse from all forms of violence, physical as well as verbal
>> Only a non-violent society can ensure the participation of all sections of the people in the democratic process
>> Creative thinking, innovation and scientific temper have to be promoted in our institutions of higher learning
>> For development to be real, the poorest of the land must feel that they are a part of the nations narrative
>> Eradication of poverty would provide a strong boost to happiness
>> Social inclusion would ensure access to the fruits of progress to all
>> During my five years in Rashtrapati Bhavan, we tried to build a humane and happy township
>> When I speak to you tomorrow, it will be as a citizen a pilgrim like all of you in Indias onward march towards glory
>> How successful I was in discharging my responsibilities will be judged, over time, by the critical lens of history
http://news.rediff.com/commentary/2...inal-address/26bef15ee16b7758be754c5526fff0af