[h=1]The 22-yr-old behind 'Save the Internet' campaign[/h]
May 06, 2015


In April 2015, Karthik Balakrishnan, an engineering student from Bangalore spearheaded an online campaign that went on to inspire and educate millions from across the country and perhaps even changed the way people looked and used the internet.
This is his story.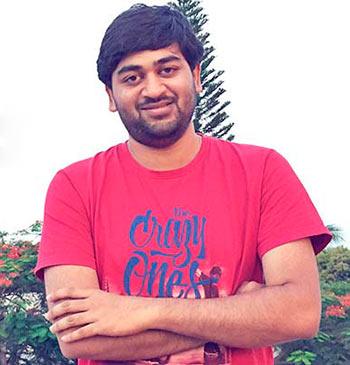 I'm a kid who just got lucky."
Not a very usual introduction, but these were Karthik Balakrishnan's first words when we started our conversation.
If you are one among the million plus Indians who have sent an email to the Telecom Regulatory Authority of India (TRAI) supporting net neutrality, you might want to thank Karthik.
The 22-year-old final year student at Vellore Institute of Technology was one of three techies who coded their way to save the internet.
Wearing a red-coloured t-shirt paired with jeans, Karthik looked like an ordinary hacker. But what makes him special is his pivotal role in the entire 'Save the Internet' campaign.
He calls it his 'plain dumb luck' but according to us, it's more than that.
Here's an open hearted conversation with Karthik Balakrishnan (his first ever interview), the youngest member of the group of people behind the net neutrality campaign.
An engineer by chance
A student of Frank Anthony Public School in Bengaluru, Karthik was an average student throughout his school days.
However, Karthik was a mischief maker in his childhood, which led him into trouble very often.
He recalls one such incident when his bed caught fire (because of his experiments), but he walked out of the house pretending nothing had happened.
His father worked at Wipro for almost three decades and retired two years ago.
Karthik's mother runs software and industrial automation company, Axcend Automation and software solutions Private Limited.
Born to an engineer father and a manager-turned-entrepreneur mother, he has grown up seeing his parents working hard.
This keeps him away from complaining about small issues in life.
In the faintest of his memories, Karthik recalls the times when he used to be on the lap of his father while he was playing games on the desktop.
Even though he has grown up with computers, the DOS-era early exposure to computers didn't make Karthik crazy about them.
In fact, after completing class 12, he had a dilemma -- whether to choose design or computer science engineering.
He chose computer science because he was not sure how he would make a career out of design.
Karthik finds coding interesting because it's challenging.
He says, "The difference between the top 1 per cent coders and the remaining 99 per cent is not huge. It's just a perspective which makes it seem big. The jump from one category to another doesn't take a genius mind but some determination."
Karthik has been trying to make many young coders make that jump in his college and elsewhere through workshops, sessions and other platforms.
An app to check your attendance!
Karthik finds himself fortunate enough to be among the like-minded group of friends.
In his second year of college, he along with his roommate made an app which allows students to look at their attendance on their phones.
After a few iterations and a couple of years, now 18,000+ students of VIT are using the app, and the college plans to make it official as well.
He adds, "It was a genuine problem as the website interface was horrendous on phone and to keep a track of 75 per cent attendance in all subjects, one needed regular updates and instant access to the existing data."
Failing to get permission from the college for this, we spoke to an incubatee startup on campus and started working from their office two days a week.
Karthik was working on the Android app and it was his first exposure to Android app development.
The entire process not only gave him some technical expertise but provided the much needed confidence as well.
The project eventually found a place in the top three in the Google Cloud developer challenge 2013 for the innovative use case of Google Cloud.
The dumb luck part
On Dec 2014, Karthik joined Hasgeek as an Android intern.
It was all a regular Android development and backend work for him till his boss Kiran Jonalagadda received a call from Nikhil Pahwa, the torch bearer for the net neutrality campaign in India.
Karthik recalls, "The only person I know in the entire scheme of things (Save the Internet campaign) is Kiran. When TRAI put up the consultation paper on OTT(Over the top) services out on 27th March, Nikhil spoke to Kiran about working on a process to make people send emails from their individual IDs in response to the paper. We wanted people to use their own email client on phone and desktop."
Karthik said yes when Kiran asked him if he would do the job.
The only issue being that he (and others) anticipated 10,000 emails to be sent over the next 14 days.
Karthik worked on the website and tested in as many devices, OS and browsers as possible to avoid any technical glitches.
In a couple of days, the website was ready but it was launched only on April 11.
"For almost a week, we were working on the answers (to the consultation paper) with lawyers and refining them to make sure that the best arguments and logic are presented with enough evidence. Nikhil had spoken to Tanmay Bhat and AIB team for the initial push to the campaign. It was not a delay but a well planned effort," he says.
Apart from AIB, Reddit India and Mozilla India has also supported the campaign.
The 22-yr-old behind 'Save the Internet' campaign - Rediff.com Get Ahead