Hunting by humans is driving many of the world's threatened mammals to extinction. Elephants are killed
for their tusks
; rhinos,
for their horns
― later to be used in chopsticks, hair clips and luxury ornaments.
But according to new research, vanity isn't the primary stimulus driving hunting of the planet's most threatened mammals.
It's hunger.
There are 301 terrestrial mammals worldwide threatened with extinction due primarily to hunting, and
285 of them (or 94 percent) are hunted to be eaten
, according to a study published last month in the journal
Royal Society Open Science
. This includes the critically endangered pangolin, several threatened
primates like chimpanzees and gorillas
, marsupials, deer, and even big cats and bears.
"Unsustainable hunting for consumption and trade of wild meat, also known as bushmeat, by humans represents a significant extinction threat to wild terrestrial mammal populations," said the study, led by William Ripple, an ecology professor at Oregon State University.
Hunting for bushmeat was found to be a particular concern in Asia, Africa, Oceania and parts of South America.
"While many ethnic groups have hunted wildlife for subsistence over millennia, the unsustainability of this practice has accelerated in many areas due to growing human populations, an increasing tendency for wild meat to be traded commercially, and the widespread adoption of firearms and motorized transport that increase the efficiency and spatial extent of hunting," the researchers said.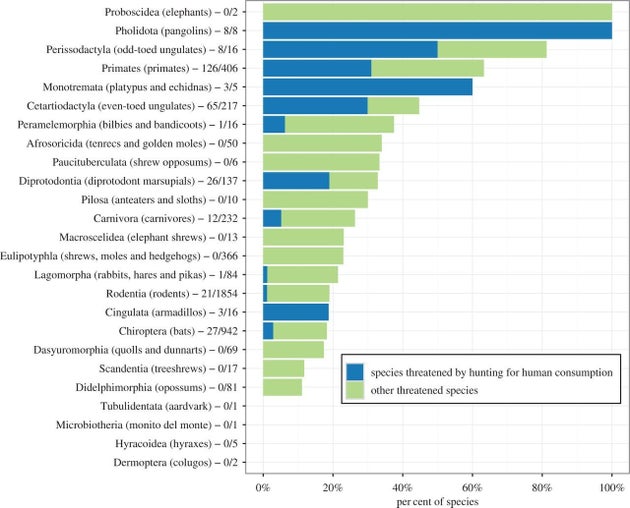 http://www.huffingtonpost.com/entry/bushmeat-hunting-mammals-extinction_us_58185d9de4b0390e69d24d94