Atrocious! We should ban such MNC's who are humiliating our Country!
[h=1]
Amazon now sells slippers with Mahatma Gandhi's face
[/h]
Share
Comment
January 15, 2017 10:59
---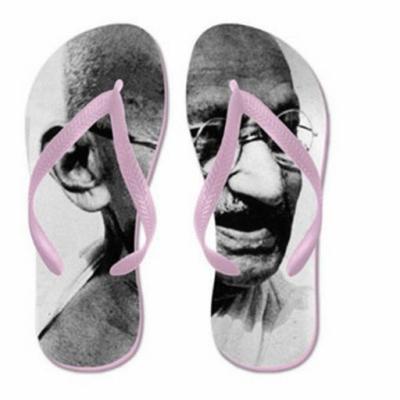 After getting rapped by External Affairs Minister Sushma Swaraj and 'expressing regret' for selling doormats featuring the image of the Indian flag on its Canadian website, e-commerce giant Amazon.com has now listed a new item: slippers with the face of Mahatma Gandhi.
The Gandhi slippers been sold by CafePress on Amazon.com costs $16.99 (Rs 1,190). The brand claims that their 'graphic flip flop sandal designs are professionally printed... and will look great and make someone smile,'
CNN News 18
reported.
Just last week, the e-commerce site was slammed by Swaraj, who demanded Amazon to tender an unconditional apology and take down all products disrespecting the Tricolour.
http://news.rediff.com/commentary/2...gandhis-face/da7c48f747560d9764ad81cdb981d63f