Namaste all,
In Tamilnadu Hanuman Jayanthi is celebrated on the Amavasya day in the month of Marghazhi and it is coming up on 21st December 2014. In 2014, Tamilians would have celebrated Hanuman Jayanthi twice (or thrice including the one celebrated in April?).
At my home, I will make 'Pepper vadas' (milagu vadas) - urad being significatory of Hanuman's muscle power, this is a noted prasad offered to the Lord on this auspicious day. At my local temple too, Hanuman Jayanthi is celebrated on Marghazhi Amavasya days and people often make a garland of 108 pepper vadas or the more common 'Ulundu vada' and offer the garland to the lord.


Hanuman is believed to have been born in Moola nakshatra and this day, of moola nakshatra in the month of marghazhi is celebrated by Tamilians to be his birthday. Hence it is celebrated so. According to Tamilians, the jatakam for Hanuman is as given in 'http://ramahanumanraksha.files.wordpress.com/2012/12/sri-rama-and-sri-hanuman-horoscope-0021.jpg'. As you can see, Sun and Moon together in 9th house in Sagittarius, says he is born of nakshatra found in the sign of Sagittarius.
[Horoscope of Hanuman ji as given in the above site: Lagna-> Aries with Mars in own house, 4th house-> Leo with Jupiter, 5th house-> Virgo with Venus, exalted Mercury and Rahu, 9th house-> Sagittarius with Sun and Moon, 10th house-> Capricorn with Saturn in own house, 12th house -> Pisces with Ketu].
Whereas in North India, his birthday is celebrated on Chaitra Pournami. One site I referred to says that " According to Raamaayan Kathaa, it was on this day that Shree Hanumanji acquired powers from Devi Maataa, Indra and other forms of divinity". Although other sites refer to this day as the birthday of Hanuman. Personally I do not know which would have been Shri Hanuman's birthday, but owing to the jatakam reference given earlier, I tend to believe his appearence might have been on Marghazhi Amavasya only.


A North Indian member I know said once that:

"
As Anjana drank the same payasam which was given to Kausalya by Dasaratha, Shree Raama Chandra Prabhu and Shri Hanuman ji must have born approximately during the same time.
In a Upanyasam Shree U Ve Krishnan Swamigal says, Shree Raam birth is in Chithirai. So Shree Hanuman ji must have born in Chithirai.
"


However, it appears that though Sri Anjana Devi and Kausalya must have had the pudding at the same time, Sri Anjana Devi must have delivered Shri Hanuman sooner than did Kausalya.
As stated in 'http://www.jaihanuman.net/English-3-Stories-1-Birth%20of%20Hanuman.html',


"Anjana ate the pudding and became pregnant. Soon after, as demigod races do not require the full nine months in womb, she gave birth to Sri Hanuman ji on Tuesday, in the month of October. This is why all great devotees of Sri Hanuman ji observe a fast on Tuesdays. Then take only fruits and milk products, and communicate with Sri Hanuman ji".

Thus I believe the Marghazhi celebrations of Hanuman Jayanthi is the accurate one, though I will visit the temple for the Chithirai celebrations.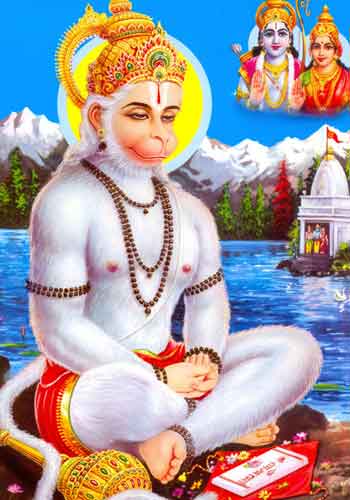 Jai Hanuman!



Last edited: