Two IIT, from a 150-sq ft room in Bhiwandi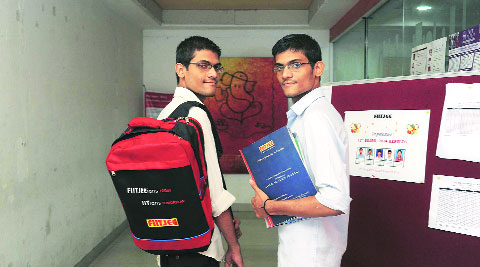 The twin sons of a bus driver in Mumbai get offers of financial help after clearing IIT-JEE.
With a collective income of around Rs 17,000 per month and a cramped 150 square foot room in Bhiwandi's slums for their home, life for the Yadav family has been tough. But it looks all set to change. Their 18-year-old twins — Ram and Shyam Yadav — have cleared the coveted IIT-JEE exam with 267 and 1,816 ranks respectively in the OBC section.
Since Friday morning, the family, which hails from a small village in Uttar Pradesh, received a string of calls from people who were eager to to extend financial aid for the twins' dream — research in particle physics and space — to come true.
Their elder brother Anil says the twins were not exactly the studious kind when they were small. "As kids, both were more playful than studious. In Class X, however, they started studying seriously. I guess they saw the competition around them and realised they needed to work hard to do well," the 22-year-old told The Indian Express.
While their father Ramashankar, a bus driver, earns Rs 8,000 a month, their eldest brother Luvkush (25) adds another Rs 9,000 to the family's income. Since the family, comprising seven members (four brothers, one sister and parents), had just a tiny room as home, neighbours arranged another room in the 'chawl' a month before the exam so that the twins could prepare for their big test.
Ram, always an extrovert, as opposed to his usually shy brother Shyam, speaks about concepts of space medicine, astrophysics and quantum gravity. Not interested in getting jobs, the twins want to do research and innovate. Their motivation, the family says, has been the innumerable biographies they have read of great innovators. "I get biographies for them from my college's library," says Anil.
The idea to explore the realm of space was fed in their minds through their father's tiny mobile phone, in which they used to watch the National Geographic channel.
Their eldest brother Luvkush, who quit studies to sustain the family, financed their education till Class XII, after which the twins were able to bag 100 per cent scholarship in FIITJEE for IIT preparations. "They, however, did not have enough money to pay for admission fees. The teachers in FIITJEE saw their talent and decided to shell out money from their own pockets for their admission," said Vidyut Kumar, a social activist who is helping the boys raise money for their IIT fees.
The twins now hope to get into IIT-Mumbai. Their mother, who never went to school, has still not understood what IIT is all about. It was only when media tapped on their door and requested interviews, did she finally realise the importance of it. "She and my father have now understood that Ram and Shyam have achieved something
continued…
Two IIT, from a 150-sq ft room in Bhiwandi | The Indian Express