The new Hindutva that emerged post-liberalisation blended cultural pride with national assertiveness(Burhaan Kinu/HT PHOTO)
The pandemic is certain to ensure that the
bhoomi pujan
of the proposed Ram Janmabhoomi temple in Ayodhya on August 5 will be an extremely sanitised affair, despite the extraordinary significance of Prime Minister (PM) Narendra Modi's presence. No doubt the occasion will be solemn and will be marked by the presence of a few hundred guests, carefully chosen for their contributions to a movement that has dramatically altered the politics of India and the mentality of a majority of Hindus.
Yet, it will be a very different occasion from the
shilanyas
on November 9, 1989, when Kameshwar Chaupal, a Dalit, was specially chosen to lay the first consecrated brick for the temple at a spot that the Congress government of the day had, after much agonising and calculation, deemed to be undisputed. The day had a special significance: It coincided with the fall of the Berlin Wall, an event that culminated in the collapse of the erstwhile Soviet Union. It also marked the first occasion in independent India that there was a mass mobilisation of
kar sevaks
in Ayodhya for the construction of a Ram temple and, by implication, the removal of the 16th century Mughal shrine that had, however, been functioning as a Ram temple since 1949.
The Ayodhya movement was an important input in forging this new mentality and Narendra Modi became its icon. But whereas the first phase of the Ayodhya movement was defined by mass mobilisation, civil unrest and an outpouring of passion, its post-1996 articulation was marked by a quiet confidence that comes with the awareness that the main battle has been won. Ayodhya helped shape the transformation of the meek Hindu and the submissive Hindu into a proud Hindu and even a global Hindu, along the lines Swami Vivekananda had hoped for.
The monument to lord Ram, built on the site of an ancient temple, could yet become a powerful symbol of resurgent nationhood.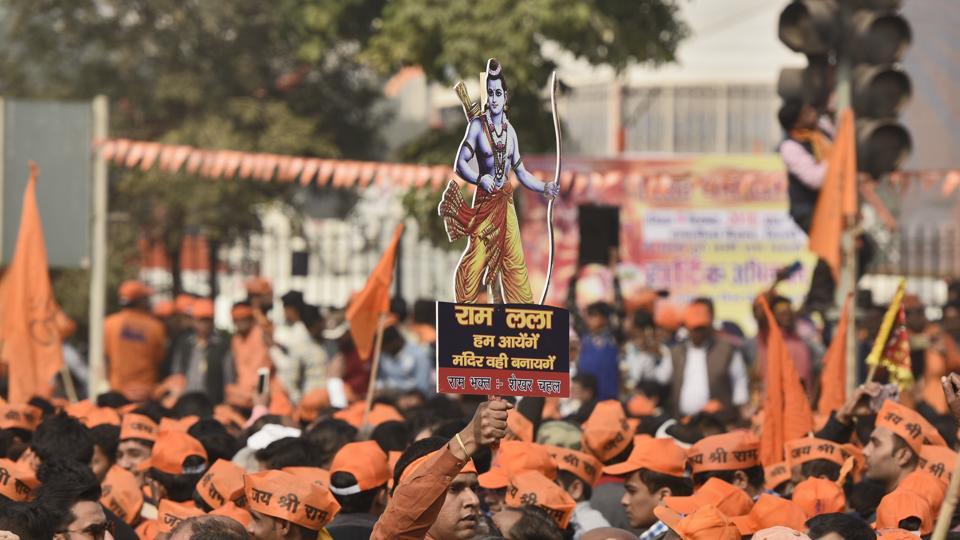 The Ayodhya movement redefined secularism, brought the political Hindu to the centre stage
www.hindustantimes.com