The Next Steve Jobs Is Going to Come From One of These 13 Surprising Schools
By
Sophie Kleeman
August 25, 2015
Harvard and Stanford may jump to mind when it comes to tech titans. Microsoft's Bill Gates and Facebook's Mark Zuckerberg chose the former, and Google's Larry Page and Sergey Brin flocked to the latter. But for the next generation of entrepreneur, we may need to look outside the Ivy League. (Steve Jobs, of course, attended Reed College, a liberal arts school in Portland, but didn't graduate.)
Innovation and creativity aren't exclusive to the most prestigious centers of education. They exist in schools all around the world with cutting-edge programs in science and tech, even if they fly further under the radar than "that college in Boston."
To build our list, we considered a variety of criteria, including ranking, research facilities, important technological discoveries, notable faculty and alumni, cost and relationships with the private sector. We drew our stats primarily from
U.S. News & World Report
and Times Higher Education rankings, as well as slightly lesser-known lists like
this one
from
Great Value Colleges
.
Scroll through the most promising of these schools below. Is yours one of them?
1. University of Texas at Austin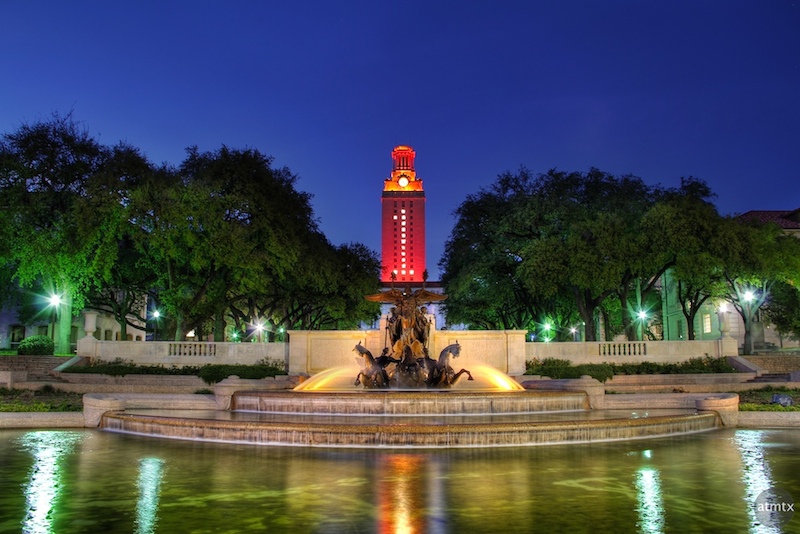 Source:
atmtx/Flickr
The University of Texas at Austin has a lot of things going for it: its proximity to Austin, itself the home of a
bustling startup scene
; its
connection
to South by Southwest, a big-name technology and ideas conference; one of the country's top
engineering programs
; and a number of notable alumni, including
Neil deGrasse Tyson
and Dell founder and CEO
Michael Dell
(though Dell never finished, dropping out in 1984 to sell computers).
2. University of Toronto
University of Toronto's beekeeping program.Source:
Melissa Renwick/Getty Images
The University of Toronto is home to
Geoffrey Hinton
, a distinguished emeritus professor of computer science who, as the
Toronto Star
put it
, is the "godfather of a type of artificial intelligence currently shattering every ceiling in machine learning." He also works part-time at Google, which recently
spent $400 million
on the purchase of an artificial intelligence company, as a "distinguished researcher."
3. Rochester Institute of Technology
U.S. News and World Report
ranked
RIT eighth on its 2015 list of Best Regional Universities (North), and it also offers a plethora of interesting programs, including video game design and imaging science majors. RIT is also well-known for its career-oriented approach to learning: Its large
co-op program
partners with over 1,900 employers worldwide to give students real-world work experience before they're actually out there in it.
4. Georgia Institute of Technology
"A member of the Swiss Federal Institute of Technology Zurich robotics team shows the field that the team's entry in the Nano Cup robotics competition ... at Georgia Tech in Atlanta."Source:
John Bazemore/AP
With one of the best engineering programs in the country, including
top 10 spots
in every engineering category according to
U.S. News & World Report,
Georgia Tech is renowned as a top destination for tech whizzes. But it's also home to the
Georgia Institute of Technology Cooperative Division
and the
Graduate Cooperative Education Program
, two
large
influential programs that place students in real-world working environments.
5. Delft University of Technology
Located in Delft, Netherlands, the city's namesake university is the
biggest and oldest
university of technology in the country. It's also the incubator for a number of rad projects, like
Denise
, a robot with the ability to walk like a human, and
Nuna
, a solar-powered race car that won the World Solar Challenge four times in a row in the 2000s.
6. Imperial College London
Prince Harry has a grand time at Imperial College London's Center for Blast Injury Studies.Source:
WPA Pool/Getty Images
U.S. World News & Report
placed Imperial College London twelfth on its
list
of top global universities, and the Times Higher Education World University Rankings
ranked it sixth
in the world for engineering and technology, alongside titans like Stanford University, Massachusetts Institute of Technology and Princeton University. Meanwhile,
according to
the
New York Times
, recruiters from high-ranking companies in 20 countries put it ninth on its graduate employability list.
Even Prince Harry is a fan: He helped open its Center for Blast Injury Studies, a cutting edge program that
studies
combat-related injuries.
7. Worcester Polytechnic Institute
"Worcester Polytechnic Institute students from left, Brian Morin, Paul Greene and Geoffrey Elliott pose with a laptop computer, which is logged onto the Microsoft homepage showing the company's Internet browser Tuesday afternoon, March 4, 1997, in Watertown, Mass. Greene uncovered a major security flaw in Microsoft's browser and along with Morin and Elliott posted the discovery on a public Internet bulletin board after being ignored for several days upon reporting the bug to Microsoft. The flaw could allow a Web site operator to secretly run programs or destroy files on someone else's personal computer."Source:
STEPHAN SAVOIA/AP
Counting among its alumni Robert H. Goddard, the
creator
of the first rocket powered by liquid fuel,
Paul Allaire
, the former CEO and chairman of Xerox, and
Gilbert Vernam
, an early pioneer of cryptography, WPI in Massachusetts is also known for its propensity to churn out cash-friendly graduates —
Bloomberg Businessweek
named it
one of its top 20 schools for return on investment in 2012.
8. Technion-Israel Institute of Technology
Google CEO Larry Page, Cornell University President David Skorton, Technion professor Craig Gotsman and former New York City mayor Michael Bloomberg hold a press conference to answer questions about Cornell and Technion's tech campus, which temporarily resided in Google's New York City headquarters.Source:
Seth Wenig/AP
Israel is home to one of the
best and brightest
startup scenes on the planet, and its top university is just as formidable.
Bloomberg Businessweek
included it — the only non-U.S. entry — on
a list
of "Top 10 Colleges for Tech CEOs," and in 2012, it
partnered with
Cornell University to build a new engineering and applied science school on New York City's Roosevelt Island.
9. Montana State University
A street sign at the Montana State Innovation CampusSource:
Christian Science Monitor/Getty Images
In 2012, the school's Advanced Technology Park got a makeover, including a new name — the Montana State University Innovation Campus — and a new director, Teresa McKnight,
who envisions it
as a go-between for research and the private sector. In 2015, it has a
variety of fields
to its name — optics, biotechnology, agriculture, information technology — as well as number of projects, like the Center for Bio-inspired Nanomaterials and the Thermal Biology Institute.
10. University of California, Berkeley
Siemens Senior Vice President Terry Heath examines an offering at an entrepreneurship conference held at UC Berkeley.Source:
Jed Jacobsohn/AP
Network World
reported
in 2012 that UC Berkeley was a friendly home indeed for people who want to be the heads of massive tech conglomerates: "Among the 81 degrees obtained by top tech CEOs, Berkeley represents five of them," beating out Stanford, the site said. Despite its reputation as a
hippie wonderland
, it also has some pretty badass
tech ventures
to its name. (Oh, and it's also home to 51 Nobel Laureates,
22
of whom are or were faculty.)
11. University of Melbourne
Former Australian Prime Minister Kevin Rudd examines a prototype for a bionic eye at the the University of Melbourne.Source:
WILLIAM WEST/Getty Images
In the 1960s, Graeme Clark, a researcher at the school's Center for Neural Engineering, began to study the field of cochlear implants. In the 1970s, he and his colleagues developed the world's first bionic ear — a device that would later be implanted in more than
300,000 patients
with hearing problems. Clark isn't done yet, however, despite being your
grandfather's age
: In
an interview
with the
Sydney Morning Herald
in July, he described excitement over his new projects, which "could help with treatment of paraplegics, epileptics and ... the bionic eye implant."
12. Harvey Mudd College
"Mellon Mays Undergraduate Fellow Cesar Orellana '17 describes electro-spinning during summer research open house."Source:
Harvey Mudd College/Twitter
It may be the
most expensive college
in America, but the California institution also recently came out on top in the undergraduate engineering game:
U.S. News & World Report
awarded it first place on its
2015 list
. It's also
making strides
to improve diversity within STEM fields, despite a few missteps
along the way
.
13. National University of Singapore
"The #604 NUS Urban Concept, Hydrogen UrbanConcept, from NUS, turns a lap on day four of the Shell Eco-marathon Challenge Asia at Sepang International Circuit in Kuala Lumpur."Source:
Peter Lim/AP
NUS houses the Centre for Quantum Technology, a research institution founded in 2007 as Singapore's first Research Center of Excellence. Focused on the application of quantum theory to "classical" fields like computation, information and cryptography, the center is working on
quantum batteries
and theories of
query complexity
and
quantum entanglement
. Though it's run somewhat independently from NUS, CQT also offers
plenty of connections
for students — an ample opportunity for technological discovery.
http://mic.com/articles/124325/13-best-colleges-for-tech-computer-science-engineering-and-business