Appreciate the grit and tenacity of Diezny!! Awesome!!
[h=1]The mother of 2 who won medals for India[/h]
November 13, 2017 08:27 IST
At 42, Diezny D'Souza trained with teenagers at a school ground to get back into running.
She won silver and bronze for India in China.
Rediff.com's Archana Masih meets the sprinter who picked up her spikes again and proved she could win.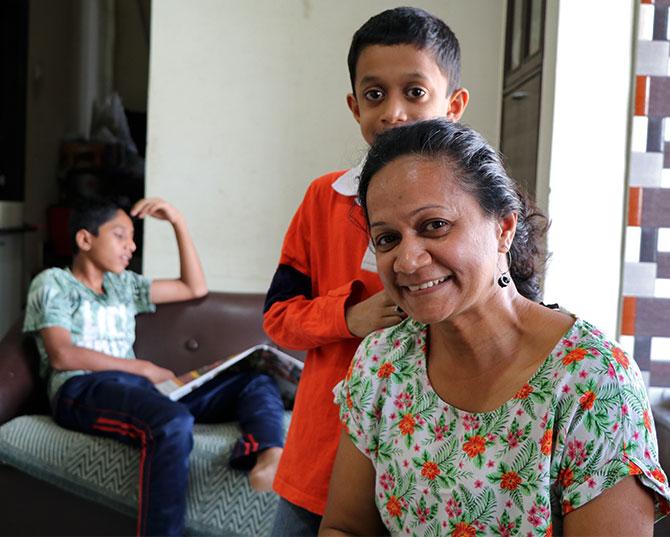 IMAGE: Diezny D'Souza with her sons in her home in Sanpada, Navi Mumbai. Photograph: Rajesh Karkera/Rediff.com
A professional athlete since 16, Diezny D'Souza had won many medals at state and national racing meets, but had never run for India at an international event.
The moment had passed, she thought. Marriage, children, a job at LIC under the sports quota left her little time to follow the gruelling training that professional sprinting demands.
But then at 42, Diezny made up her mind. She brushed the dust off her spikes and decided to challenge herself. To see if she could win again -- and perhaps get a medal for India.
After qualifying for the China Masters in Rugao (September 24 to 28, 2017), a meet for athletes over 35 years of age, where 19 countries were participating, Diezny went back to the track to train again.
Much had changed in the training techniques from her younger days. The best place to start again, she thought, was the sports field at the Father Agnel School ground where she had studied and earned her stripes as an athlete.
She hired a coach for the first time and every day after work went to the school ground. Her training partner was a 14-year-old girl.
"I trained with 14, 18-year-old kids. The first day I was there I realised how fresh and agile they were and how rusty and worn out I was," she says, sitting in her home in Sanpada, Navi Mumbai.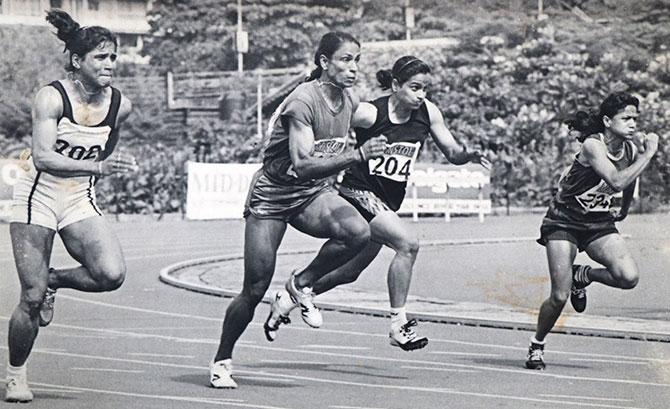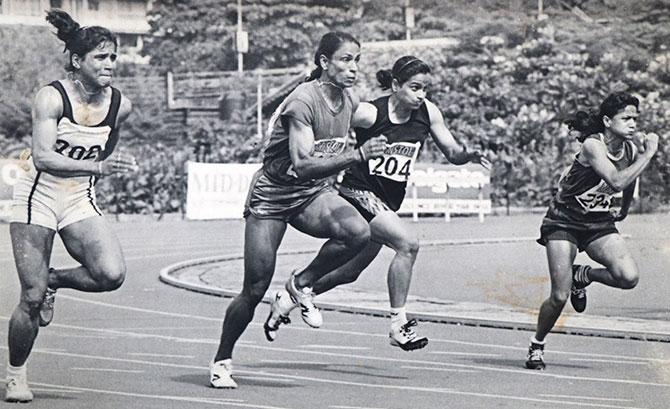 IMAGE: Diezny runs with India's iconic sprinter P T Usha at an event in Mumbai, 28 years ago. The framed photograph is placed in the living room. Photograph: Kind courtesy, Diezny D'Souza
Her two boys hover around her as she speaks. Prominently placed among the family pictures is a powerful picture of her running alongside Indian sporting legend P T Usha. The sheer force of that photograph, dwarfs the other pictures in the living room.
"This was during a training event when P T Usha was making a comeback. I was 16."
In an enclosed shelf, an assortment of medals won over the years are kept alongside other travel and religious memorabilia. There are some more medals in her parents' home and her mother has been asking her to take them away.
"I tell her I earned them when I lived there, so they belong with her," says the affable athlete.
Going back to train at 42, she says, made her body go through hell.
Every night, she slept with an ice pack on her hamstrings. "I was almost close to a breakdown -- whether to quit or hang on. It was extremely stressful," she says looking back on those days.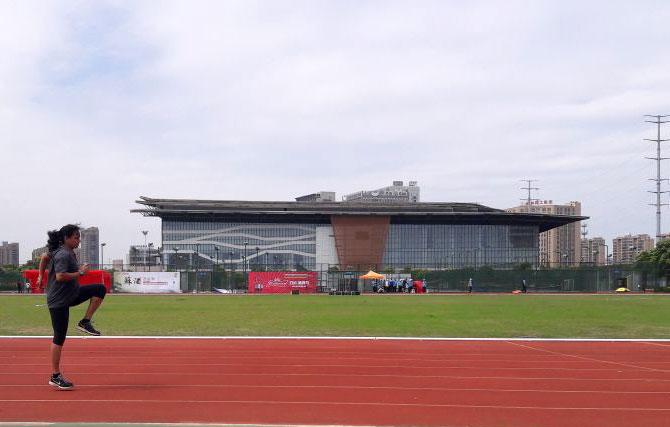 IMAGE: Practicing for the China Masters in the stadium in Rugao. Photograph: Kind courtesy, Diezny D'Souza
She self-funded the training, bought a new pair of spikes from Amazon and paid for her own ticket to Rugao, China.
The LIC has supported her a lot through the years, but since she was not representing the insurance company, she had to bear the expenses of traveling to the China Masters.
The participation cost her Rs 80,000 from her savings.
Since there is no synthetic track in Navi Mumbai, a basic requirement for sprinters, twice a week, she caught an Ola to go to the neighbouring district of Mumbra in Thane to use the synthetic track.
"Sprinters have very minimal facilities. In a city like Mumbai, there are just 3 or 4 synthetic tracks. You can't run on the roads because it can cause injury," says Diezny.
Football, running and to some extent cricket are the few sports that children from humble backgrounds can aspire to. "Training for tennis, even badminton, is very expensive."
Indian stadia have facilities, but most often they are not used, she says giving the instance that though electronic time recorders exist, clock timers are still used widely.
An absence of a professional attitude to sport is another thing she noticed while observing the way the China Masters were conducted.
"If you did not report 40 minutes before your event, your name would be deleted from the event."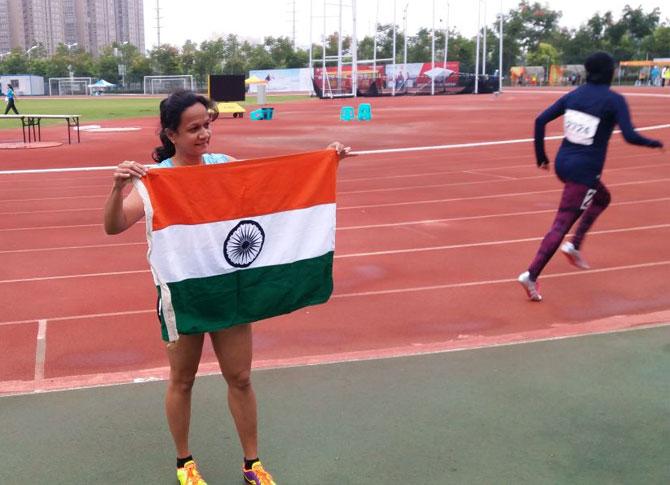 IMAGE: Holding the Indian flag after winning the silver medal in the 100 metres. Photograph: Kind courtesy, Diezny D'Souza
>
At the five-day competition, her events -- the 100 metres and 100x4 relay -- were on the final two days.
She had stood first in the heats in her group and felt her stomach churn till she took position on the track for the 100 metres finals.
She clocked 14 seconds and won silver.
In the relay, the Indian girls took bronze.
It did not dawn on her till someone from the stands threw the Indian flag at her.
As she reached out for the tricolour, the moment of victory came home.
She wrapped it around her shoulders and then held it high above her head.
It is a moment, she says, she will never forget.
"Only when you win a medal do you get the privilege to hold the Indian flag. Nothing can better that feeling for an athlete."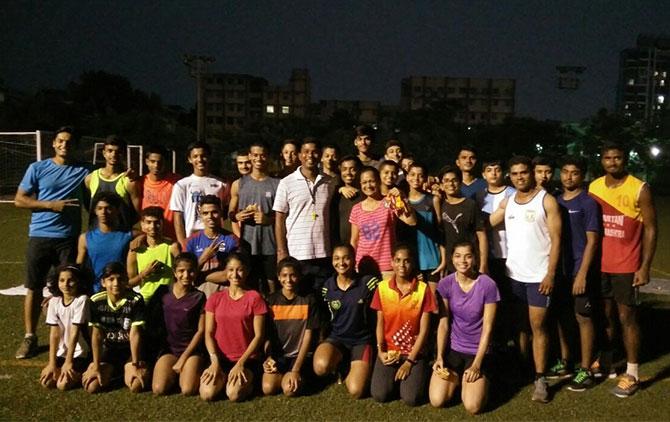 IMAGE: With the children she trained with at the Father Agnel school ground. Going back with the medals to show them was a moment of great joy. Photograph: Kind courtesy, Diezny D'Souza
When she returned to India, she was received with garlands at the Mumbai airport by family and friends.
At her building in Sanpada, ladies did an
aarti
even though it was 3 am in the morning. A banner with her picture announcing her victory still hangs outside the building.
Since then, she has had 2 or 3 speaking opportunities and a few have come forward with sponsorship offers. She is aiming for the Asian Masters in 2019 in Malaysia next and will begin training soon.
One day after her return, Diezny D'Souza bought a big packet of chocolates and went back to the Father Agnel school ground to see the teenagers she had trained with.
For her, the welcome they gave her was the best.
"It was so real and pure. They were so happy and excited for me."
The victory lap that started in Rugao, China, finally ended with the children who had taught her to run again, and to win.
http://www.rediff.com/getahead/report/the-mother-of-2-who-won-medals-for-india/20171113.htm