In another thread we were celebrating the finding of River Saraswati. that river was probably happy not being found for so long.
More than Rs 1,500 crore has been spent in the past two decades under the aegis of the Yamuna Action Plan (YAP). The sewage interceptor project — to ensure that only treated sewage is discharged into three drains emptying into the river — cost the Delhi Jal Board (DJB) a total of Rs 1,962 crore. The phase of the National Green Tribunal's Yamuna revitalisation project is expected to cost another Rs 3,659 crore. But despite optimism, experts, bureaucrats and politicians agree that implementing the Tribunal's order will be hard.
Manoj Mishra, the petitioner in the case at the Tribunal, explained that the reason previous plans didn't work was the "obsession with cleaning of water". He explained, "We need to remember that it is the water flow in the river which is crucial. All rivers have a capacity to clean themselves through their environmental flow. This aspect of river restoration was never explored. For the first time that a judicial body, the NGT in this case, in its January 13 judgment, spoke about ensuring the environmental flow of the river and how it is essential for river restoration."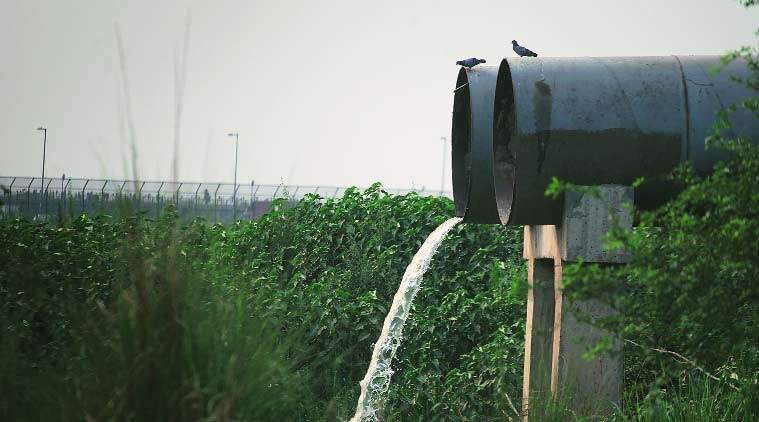 Untreated sewage being released into Yamuna near Wazirabad bridge barrage. (Source: Express Photo by Oinam Anand)
..................................
The reason for the critical pollution levels of the 22-km stretch of Yamuna passing through Delhi is linked to the fact that rarely is any fresh water released into the river from upstream of the Wazirabad barrage. "It's only possible to clean the Yamuna, when there is hundred per cent cleaning of sewage and when the minimum flow of the river is maintained. Presently, all the fresh water is taken before the Wazirabad barrage for drinking purposes. But even if treated sewage comes back into the river, there needs to be a factor of dilution by ten times before the water can clean itself," said B Sengupta, former member secretary, CPCB.
He added that the only water being added to the river at Delhi were through the 17 drains that dump copious amounts of waste water into the river. Largest among these is the Najafgarh drain with sewered catchment area of 374 sq kilometre and almost 70 tributary drains that join it, as per CPCB. A total of 17,288 industries from across the capital were recorded by the Delhi Pollution Control Committee, in a study, as industrial units "whose waste waters reaching the Najafgarh drain".
The other drain that authorities, including the DJB, have been asked to take up as priority as a part of the first phase of the Yamuna revitalisation plan is the Delhi Gate drain. According to Manoj Mishra, of Yamuna Jiye Abhiyan, the petitioner in the case, "This is one of the 22 drains, right next to the Delhi secretariat and flows into the river from there. It's highly polluted due to a mix cocktail of sewage, unauthorised industrial waste and it also has storm water flowing into it."
Slow death of a river | The Indian Express
Last edited: