[h=1]Netflix Everywhere: Netflix announces expansion into 130 countries[/h]
January 6, 2016
Kishore Ganesh
Leave a comment
Edit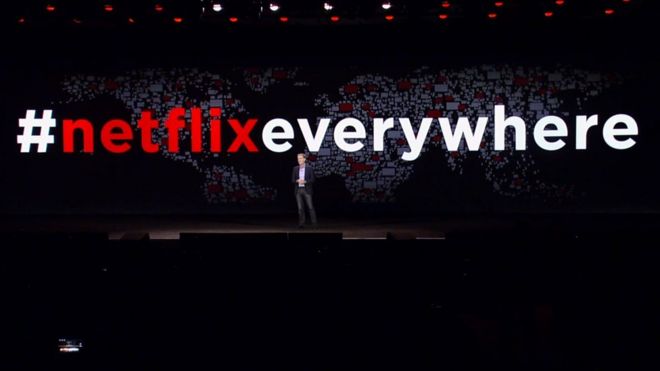 The face of television has changed over the last few decades. At the very beginning, we had live TV, and you had to fit your schedule around the timings of your favorite shows. Then, TiVo happened and the world of Television changed forever. With the advent of TV, you could record shows and view them whenever you want. Plus, you could fast-forward and skip commercials if you wished to.
But in 2006, when a DVD-Rental company named Netflix pivoted into streaming, that's when the second big revolution in TV happened. TV became ubiquitous, universal and accessible. With Netflix, you could watch TV on just about any device, from mobile phones to tablets to gaming consoles. Commercial breaks were eliminated altogether, and shows were not bound to strict rules, fostering creativity. A new paradigm of binging content was born in 2013, when Netflix released all episodes of the critically-acclaimed
House of Cards
at once.
Over the years, Netflix has been focused on acquiring content, creating content and expanding into new territories, but never before has its vision manifested itself in such a manner. Today, Netflix announced a simultaneous expansion into 130 countries, including the likes of Russia and India, effective today. Just about every major country is on the list, from Nigeria to Pakistan to South Korea, and the only major missing entry is China, which Netflix hopes to expand into soon.
​
In addition to expanding into these countries, Netflix has added support for 17 languages.
Most Netflix content will be available in all of these countries, but some bound by license restrictions won't be available till these licenses expire.
Right now, Netflix has 60 million subscribers across 60 countries. But now, with the expansion into 130 more countries, its viewership skyrocketed, and after the announcement, its stock shot up to, by more than 5%.
Netflix proclaimed the announcement as the creation of a global Internet TV Network, and it sure seems like it. What do you think? Has Netflix cemented its place as the top-dog of streaming television?
http://techgeekforever.com/2016/01/...tflix-announces-expansion-into-130-countries/