Mundkur Shri Durga Parameshwari Temple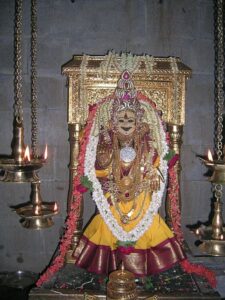 Along the river Shambhavi in Dakshina Kannada, an unbelievable number of ancient and beautiful temples exist. Most of these are thousands of years old and carry an amazing amount of historical significance. There are mainly a lot of Shiva and Durga temples along this line.
Sri Mundkur Durga Parameshwari Temple is another such wonderful temple. It is along the Shambhavi river coast and can be reached if one takes the Belmann-Moodabidri road from Udupi. As per available ancient records and Skanda Purana Sage Bhargava Rishi has installed the idol of Mahishamardini as per the request of Sumedha Rishi and Suratha Raja . The idol was facing west, was turned to east by a Jain ruler called Veera Varma who removed lots of wealth from the bottom of the Moola Vigraha . The Great hero brothers of Tulunadu Kanthabare and Budabare killed Veeraverma and restored the peace in Mundkur Maagane by handing over the charges to moodabidre Chowtas as per Paddane(Legendary Tulu Folk Song).Hence Mundkur Durga is the Kuladevi for Bhargava Gothra Brahmins.
The prime deity is Sri Durgaparameshwari in the form of Mahishamardini, holding the demon Mahisha upside down and piercing thrishul on his body. Hence the name Mundakke oori nintha OOru became Mundkur in the later stage as per one version. Other deities being worshiped are Sri MahaGanapathi (Kshipraprasaada swaroopi), Navagraha, Naaga, AshwaththaVriksha, Dhoomavathi, Raktheshwari, Vyaghra Chamundi(Pilichandi), Vaarahi (Panjurli) and Rakshopi Devatha (Protector from evil Spirits)in the temple.
The Ganapathi idol in the temple is fully covered with silver and looks very auspicious. This temple has a history of more than 1200 years old. The rings of the well, which is used to draw water for the rituals have not been changed over the years and stand as archaeological proof for the age of the temple. There are deep grooves on all the rings which stand as testimony to the fact that this temple has been in existence for thousands of years.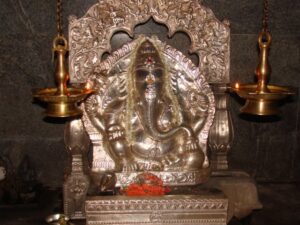 This temple, over the years, had been patronised by the rulers of Moodabidri. In fact, legend has it that the King and Queen of Moodabidri, when visiting the temple praying in front of the idol, the ear rings of the Queen dropped down. The Queen gave it as an offering to the idol. The ear rings are used to decorate the idol of Durga even today. Two wooden pillars were also carved on behalf of the King in memory of this event.
Distance from Mundkur:
Bangalore: 374 Km
Mysore: 276 Km
Mangalore: 31 Km
Shimoga: 162 Km
Chikmagalur: 146 Km
Karkala: 23 Km
Padubidri: 23 Km
Udupi: 33 Km
Kundpura: 70 Km
Mulki: 18 Km
Kateel: 12 Km
Bantwal: 46 Km
How to get there (Mundkur):
Nearest Airport:
Mangalore International Airport
Nearest Railway Station:
Mangalore
Road:
Mundkur well connected by road network. Buses are available to Mundkur from Mangalore, Udupi, Karkala, Moodbidri and kinnigoli.
Route map to reach Mundkur:
From Bangalore:
via Nelamangala - Hassan - Sakaleshpura - BC Road - Kaikamba - Kateel - Kinnigoli
From Mysore:
via Hunsur - Kushalanagar - Madikeri - Sulya -
Puttur
- BC Road - Kaikamba - Kateel - Kinnigoli
From Mangalore:
via Bajpe - Kateel - Kinnigoli
From Udupi:
via Katapadi
Mundkur Shri Durga Parameshwari Temple | Shivalli Brahmins
Shree Durgaparameshwari Temple : Mundkur
Shree Durgaparameshwari Temple : History
Mundkur Durga Parameshwari Temple