OMG! Some record this!
[h=1]Modified Bajaj Discover Becomes World's Longest Bike[/h]By Divyanshu Boora | Jan 22, 2016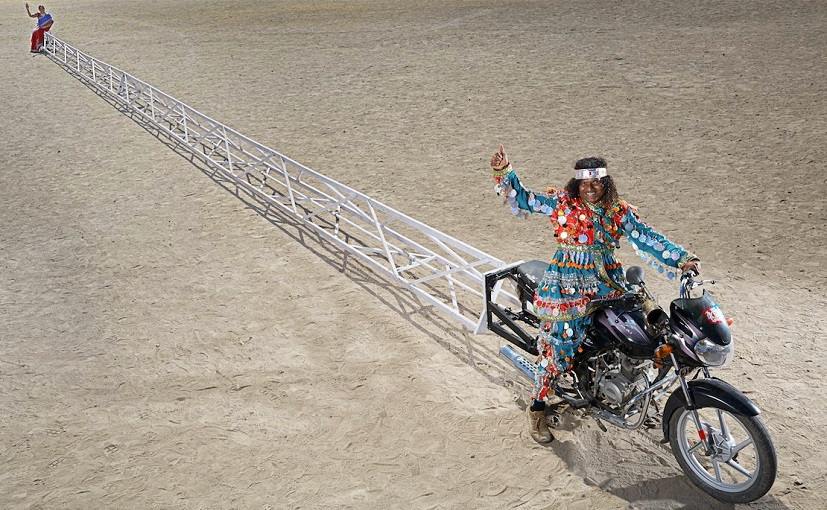 [h=2]How often have you wondered about a motorcycle's turning radius just by looking at it? Well, I surely have. On one of the occasions while travelling to Delhi from my hometown as a kid, I happened to see a Honda Gold Wing. Apart from being awestruck, I instantly wondered how anyone could take a U-turn on that bike. Years passed and with the help of the internet, I kept tabs on big motorcycles, and now I have chanced upon this one.[/h]
One lad from Gujarat has registered himself in the Guinness Book of World Records by making the world's longest bike. Bharat Sinh Parmar took a usual Bajaj Pulsar 125, chopped it, and added some metal to make it 26.29 metres long which is 86 feet and three inches to be precise.
Now don't hurt your brain trying to think about how he plans to take a turn on this motorcycle, because this bike was made solely for one purpose - to be the longest motorcycle in the world. Parmar had to ride this bike for 100 metres continuously and without any assistance to qualify to enter the Guinness Book of World Records. The 86 feet long motorcycle Parmar has made is 13 feet longer than the previous record holder.
The engine of the world's longest motorcycle is the stock 125cc engine that was used in the earlier version of the Bajaj Discover. The power generated is transferred to the rear wheel using a chain drive mechanism. The only thing I am curious to know is the net power delivered at the rear wheel as the power loss must be immense. Anyway, all I can say is that whatever that net power was, it was enough to make him ride into the history books.
http://auto.ndtv.com/news/modified-bajaj-discover-becomes-world-s-longest-bike-1268761