[h=1]Intel announces a $150 HDMI Stick that transforms your TV into a Windows PC[/h]
January 11, 2015
Kishore Ganesh
Leave a comment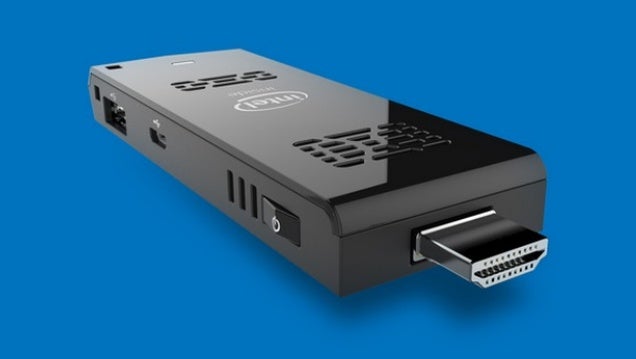 Streaming Sticks like the Chromecast have become extremely popular, because of their cheap prices and their ability to make any TV a Smart TV just by plugging them in.
For those looking for a bit more power and flexibility, Intel
has announced
the Compute Stick, which plugs into the HDMI Port in your TV and can run full-blown Windows.
All you have to do is to plug it into the HDMI Port, connect it to your TV's USB Port, pair your peripherals and you are good to go. Underneath is a 1.33 Ghz quad-core Atom Processor, 2GB of RAM for the Windows Edition and 1GB for the Linux one and a 32GB SSD, which means it is not a workhorse, but it has got enough to manage most of your needs.
It also has inbuilt WiFI, Bluetooth and also one USB Port. Intel has managed to pack all this in a package that is only slightly larger than any other Streaming Stick, which is an amazing engineering feat.
Finally, if you are looking to increase the storage capacity, you can pop in a MicroSD Card (upto 128 GB).
The WSJ says it will release soon at a price of $150 for the Windows Edition and around $90 for the Linux one. To be clear, if you are looking for easy plug and play streaming media, this isn't the device for you. The Chromecast may be more up your alley. However, if you have a need for an easy to setup inexpensive PC, this is perfect for you.
What do you think? Are you excited about the Intel Compute Stick?
Intel announces a $150 HDMI Stick that transforms your TV into a Windows PC | Tech Geek Forever