Inspiring story of a poor farmer's son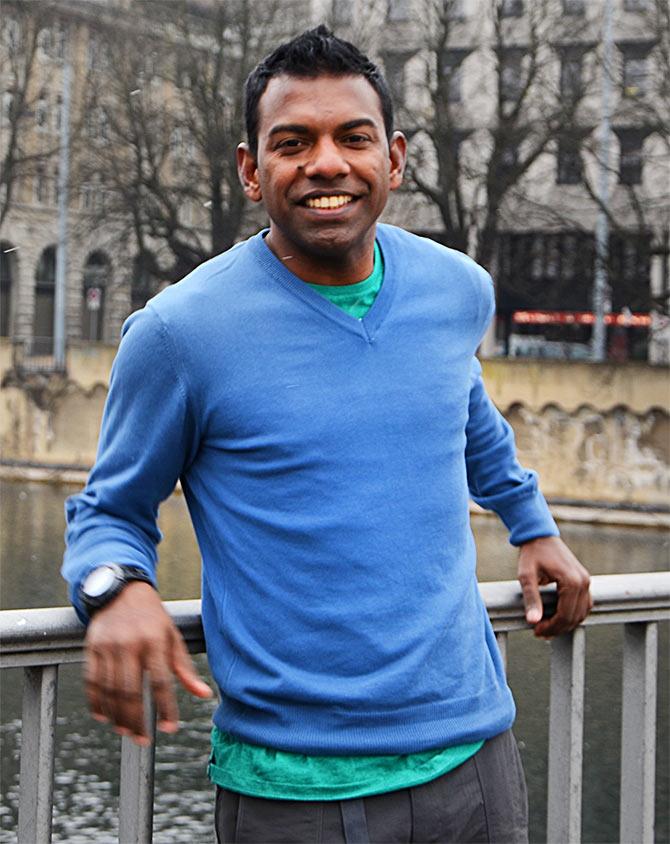 He fought poverty.
He was teased for his funny 'Mallu' accent and eating habits. He fought 'racism'.
He sacrificed his football career for his family.
Today, Varun Chandran, from a small Kerala village, is the CEO of his own IT company and a dollar millionaire.
Remarkably, he has set up a part of his operations near the same small village he was born in.
If you were to ask me who my hero is, it's not Nehru or Mahatma Gandhi. It's I M Vijayan, the boy who, after having started out selling soda at stadiums and playing barefoot, went on to become the best football player in India. He was such an inspiration that I had his photo in my room, and used to pray to him before each game. He was my God!" says 34-year-old Varun Chandran.
Varun Chandran's own journey, from an impoverished home in a small village in Kerala, to a Silicon Valley millionaire, follows a like pattern.
As a small boy his ambition didn't go beyond chopping logs in the forests like his father, or following his uncle into the Army.
Varun was born in Paadam, a small village near Kollam. Most of the 800 families were poor landless labourers working in the nearby forest.
But the village owes its growth to Varun's maternal grandfather, Karam Velal Sadananthan, who moved there to farm tapioca. The pioneering spirit could thus be a family inheritance.
"My grandfather was a local hero -- a communist who got roads built and brought the first bus to the village. He even had an eatery where he served free food to people. This resulted in ever more people migrating to the village. He also fed the bus driver and conductor for free so that they were encouraged to come to the village," Varun recollects.
His grandmother was also a hardworking woman who tapped toddy in the jungle and sold it to the workers who worked in the forest.
"I saw a lot of hard working people in the village; they either worked in the paddy fields or in the forest. But most were illiterate. My father himself had two jobs -- he worked in the fields and also went to the jungle to chop logs."
His mother ran a grocery shop out of their home. A strong-willed, ambitious woman, she insisted that her children attend the English medium primary school in the next town.
"If it weren't for my mother, I don't think I would have gone to school, or bothered to study even if I had. She made sure that we were educated, unlike most of the rest of the village."
He still remembers studying under the light of a kerosene lamp as the village wasn't connected to the grid until he was 10 years old.
"In fact, I can't remember ever studying under an electric bulb. Even after we got electricity, power supply was intermittent and afflicted by voltage fluctuations. During the monsoon season we never had any power as the trees in the forest near our village invariably collapsed on to the electricity pylons."
Money was hard to come by. The grocery store was not doing well. Their indebtedness rose to the point that everything in their house was taken away, and they had to sleep on the floor.
"The school fee was Rs 25 a month but my parents couldn't pay the fees for six or seven months. I was thrown out of the class many times. I had to go through this humiliating experience many, many times in school."
Later, he was sent to a boarding school and life changed dramatically for Varun.
"At boarding school, there is a big difference between being a rich kid and a poor kid. You are humiliated by the hostel warden for paying the hostel fees late. Even as a teenager you realise how important a role money plays in our society. Looking back, my experience was truly disgusting.
"I also realised how skin colour plays a major role in who you are. There were teachers who called me 'the black boy'. It used to make me cry. That became my nickname in school. Some even called me a crow. It hurt me a lot and I hated it. I had more bad experiences than good ones in that school."
But he used football to channel all his anger. So inspired was Varun by the rags to riches story of I M Vijayan, the well known Malayali football player, that he wanted to be like him. "I saw myself in I M Vijayan," he says of his idol.
Please read more from here:
Inspiring story of a poor farmer's son - Rediff Getahead