It is a devotional moment …orthodox observance..


[h=1]
In Pre-Dawn Religious Ceremony, Shirtless Putin Takes Dip In Frozen Lake
[/h]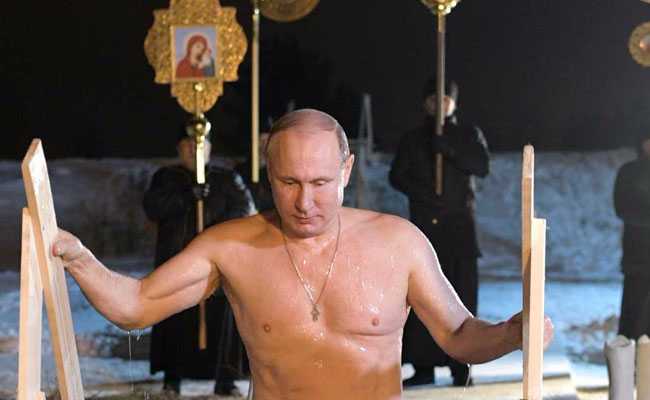 [h=2]
The Orthodox Epiphany ceremony marks the baptism of Jesus.
[/h]The president appears healthy.
Russian leader Vladimir Putin dipped into frigid waters early Friday at a lake in northwestern Russia to mark the Orthodox observance of the Epiphany, which commemorates the baptism of Jesus in the Jordan River.
The president arrived for the pre-dawn ceremony flanked by journalists with video cameras and monks holding gold icons depicting Jesus and Mary Magdalen, then strode to a wooden platform cut into frozen Lake Seliger. He lowered himself into the water, made a sign of the cross and submerged himself for a moment, in a scene captured by state media. His spokesman, Dmitry Peskov, said the water temperature was about 21 degrees Fahrenheit.
Russians observe the feast of the Epiphany on January 19, rather than January 6, as in the West, because they follow the Gregorian calendar, which observes Christmas on January 7.
The ceremony to purify the spirit drew half a million worshipers to natural and artificial pools at 4,000 sites across Russia on Friday, the government-run Channel One reported -- including some who took a dip in the sea at Sochi and others who plunged into minus-58 degree waters in remote Yakutia. That region holds the title of the world's coldest permanently occupied village, where even eyelashes freeze.
Read more at:
https://www.ndtv.com/world-news/shirtless-vladimir-putin-takes-icy-religious-plunge-1802404