[h=1]Google is secretly rolling out a new Feature in Chrome for Android: Highlight to Search without leaving Page[/h]
June 5, 2015
Kishore Ganesh
Leave a comment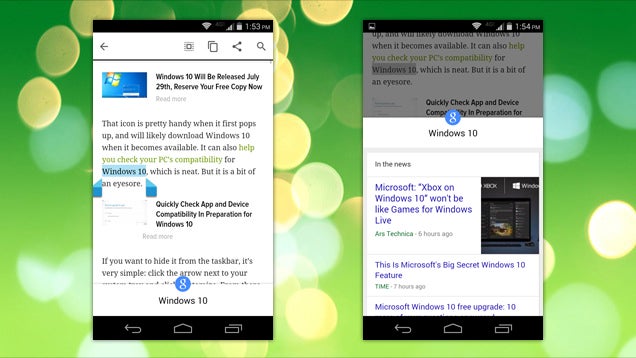 had announced
Now on Tap, which is basically a contextually aware system that is an evolution of Google Now. It interprets what's on your screen when you invoke it, and intelligently responds to your screen content.
For example, if someone sends you an Email about an event, invoking Now on Tap will give you the option to add a reminder for the event, without ever leaving the app and in a few taps.
It is implemented in the system, not in the apps, which is why it is exclusive to Android M, which will begin rolling out to devices later this year.
Now Google
has added
a new feature to Chrome that can be considered to be similar to Now on Tap, except it works only within Chrome and doesn't require Android M or any special updates.
Basically, with the new feature, you can highlight a word and search results will pop up below it without ever leaving the app you are in.
It is rolling out slowly, and users have started to notice the new feature. However, an update to Chrome is not needed, since this feature is being added onto the server, meaning it will automatically be deployed without the user having to do anything.
You may see the feature appear on your Device soon.
What do you think? Do you find this to be useful?
Google is secretly rolling out a new Feature in Chrome for Android: Highlight to Search without leaving Page | Tech Geek Forever