[h=1]German city puts traffic lights on the ground -- for you phone gazers
(CNN)Worried about people glued to their phones while they walk down the street?[/h]Two German cities were concerned enough to install traffic lights that face up at pedestrians ... on the sidewalk.
The southern city of Augsburg recently installed the system at two crowded train stations after a manager saw something similar in Cologne.
Cologne installed similar devices in 2011, according to the
German transportation research institute STUVA
.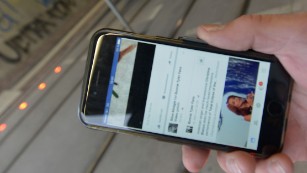 <img alt="Lights on the ground alert pedestrians looking down at their phones." class="media__image" src="http://i2.cdn.turner.com/cnnnext/dam/assets/160427053029-german-sidewalk-stoplight-2-large-169.jpg">Lights on the ground alert pedestrians looking down at their phones.
The lights cost about 10,000 euros ($11,313) each. Some have complained about the price, said Jurgen Fergg, a spokesman for the Augsburg municipal service, but the cost is "justified compared to the damage that can be prevented."
Read More
"We will keep an eye on the results and see if less people will walk over the red light," Fergg said.
A 19-year-old man was seriously injured March 8 in Augsburg when he walked into the path of an oncoming train while wearing headphones, according to police. Other cities in Germany have had fatal accidents involving distracted pedestrians, according to Fergg.
Though the solution seems simple -- just look up, people -- distracted walking has become a dangerous problem in recent years.
A 2013 study from Ohio State University
found that the number of people injured while walking and using their phones more than doubled from 2005 to 2010, when more than 1,500 went to the emergency room.
A professor involved in the study, Jack Nasar, said he "wouldn't be surprised if the number of injuries to pedestrians caused by cell phones doubles again between 2010 and 2015."
http://edition.cnn.com/2016/04/27/europe/germany-smart-phone-traffic-lights/i