Whatz this now?
[h=1]Gates Foundation accused of 'dangerously skewing' aid priorities by promoting 'corporate globalisation'[/h] Controversial new report calls for Bill Gates' philanthropic Foundation to undergo an international investigation
Despite this, Bill and Melinda Gates are facing calls for their philanthropic Foundation, through which they have donated billions worldwide, to be subject to an international investigation, according to a controversial new report.
Far from a "neutral charitable strategy", the Gates Foundation is about benefiting big business, especially in agriculture and health, through its "ideological commitment to promote neoliberal economic policies and corporate globalisation," according to the report published by the campaign group Global Justice. Its influence is "dangerously skewing" aid priorities, the group says.
"The world is being sold a myth that private philanthropy holds many of the solutions to the world's problems, when in fact it is pushing the world in many wrong directions," the report claims. The Gates Foundation is "being allowed to speak too loudly, and too many actors in international development are falling into line with the foundation's misguided priorities."
The group accuse the Gates Foundation of using its massive financial clout to silence international development experts and groups which would criticise its practices.
Bill Gates, the report claims, "who has regular access to world leaders and is in effect personally bankrolling hundreds of universities, international organisations, NGOs and media outlets, has become the single most influential voice in international development."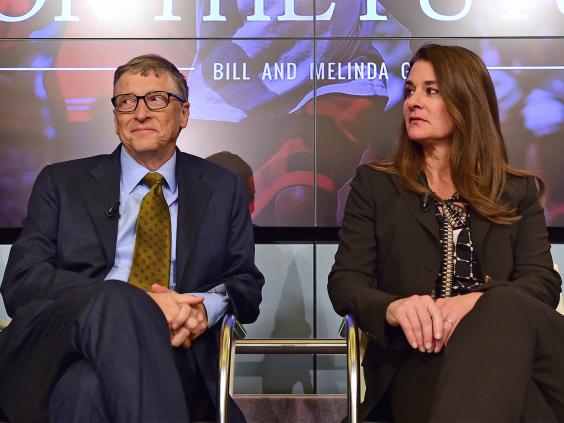 Bill and Melinda Gates' foundation is accused of promoting private healthcare concerns (Getty)
At worst, the report's authors claims, the Gates Foundation "often appears to be a massive, vertically integrated multinational corporation, controlling every step in a supply chain that reaches from its Seattle-based boardroom … to millions of end-users in the villages of African and south Asia."
Foundation's focus
The Foundation is the world's biggest funder of GM crop research, the report claims. Huge corporations including Monsanto, Syngenta, Bayer and Dupont, are major beneficiaries of its projects.
"The Gates Foundation is, in effect, preparing the ground for them to access new profitable markets in hitherto closed-off developing countries, especially in Africa. The Foundation is especially pushing for the adoption of GM in Africa," it warns.
One project aims to bring GM vitamin A-enriched bananas to Uganda. But field trials have been branded "biopiracy" since the original gene being used to develop these 'super-bananas' was collected in Papua New Guinea.
Lauded for their work in eradicating polio and malaria, amongst other diseases, the report accuses the Gates Foundation of funding privatised health and promoting an increased role for private education providers. The danger, the report says, is that it "turns basic needs into commodities controlled by the market"; such services are likely to be accessed mainly by the rich. It is critical of emphasis on single diseases and points out that this is being done at the neglect of basic health care systems. It also points out that during the Ebola outbreak in West Africa, basic healthcare collapsed completely in parts of the region.
The report is critical of the close working relations between the Foundation and major international pharmaceutical corporations and points out many of the same firms have been criticised for their over-pricing of life-saving vaccines. It warns that philanthropic influence is skewing health priorities "towards the interests of wealthy donors (vaccines) rather than resilient health systems".
It accuses the Gates Foundation of promoting specific priorities through agriculture grants, some of which undermine the interests of small farmers. These include promoting industrial agriculture, use of chemical fertilisers and expensive, patented seeds, and a focus on genetically modified seeds. "Much of the Foundation's work appears to bypass local knowledge," the report claims.
The criticism echoes the accusations made by the Indian scientist Vandana Shiva who called the Gates Foundation the "greatest threat to farmers in the developing world."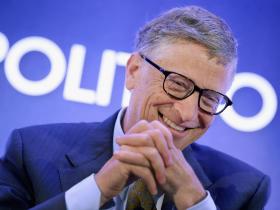 Read more
[h=2]Five predictions Bill Gates made about the future that came true[/h]

The Foundation's emphasis on "technological solutions" often ignores real solutions involving social and economic justice, it argues. "This cannot be given by donors in the form of a climate-resilient crop or cheaper smartphone, but must be about systemic social, economic and political change – issues not represented in the foundation's funding priorities."
It calls for the Organisation of Economic Co-operation and Development to carry out an inquiry into the foundation's work on top of a British Parliamentary inquiry.
The Gates Foundation said the report "misrepresented" its work. "Our mission is to improve quality of life for the world's poorest people. This is a complex challenge, and solving it will require a range of approaches as well as the collaboration of governments, NGOs, academic institutions, for-profit companies and philanthropic organisations. Governments are uniquely positioned to provide the leadership and resources necessary to address structural inequalities and ensure that the right solutions reach those most in need. The private sector has access to innovations – for example, in science, medicine and technology – that can save lives. And we believe that the role of philanthropy is to take risks where others can't or won't."
All its work was guided by its partners, it insisted. It refuted claims that it was unaccountable, stating that it was one of the first to join the International Aid Transparency Initiative as well as reporting to the OECD.
Gabriella Stern, spokeswoman for the foundation, said: "For us, results are measured in lives saved and so we will continue to work with governments, non-profits, businesses, and other philanthropists to tackle the complex issues surrounding extreme poverty.
"The Gates Foundation has spent around $34.5bn since its inception, driven by its mission to help people around the world lift themselves out of hunger and extreme poverty. This report rehashes a series of unfounded claims that have been made by others and found wanting.
"Much remains to be done but we are confident that the world is making progress. Working together over the last 15 years, the world has cut extreme poverty, child mortality and malaria deaths by half, reduced maternal mortality by nearly 50 percent, and driven new HIV infections down by 40 per cent."
http://www.independent.co.uk/news/w...ities-by-promoting-big-business-a6822036.html