https://indianexpress.com/article/s...o-on-a-journey-of-discovery-in-india-5396344/
THE FIRST thing that Devendra Bishoo does upon checking into a hotel room is figure out which direction the sun rises from in order to set up his mini temple. But since his team reached Hyderabad only on Tuesday night for the second Test, the West Indies leg-spinner had to wake up at the break of dawn Wednesday to watch the sun and arrange his murtis — Shiva, Ganesha and Durga, among others — and his copy of the Hanuman Chalisa. The 32-year-old Guyanese leg-spinner of Hindu origin says he wakes up earlier than most of his teammates, even on match days, to recite the Gayatri mantra and do his morning puja before leaving for the ground. It's a tradition that Bishoo follows wherever he is. But nowhere does he get more excited about connecting with his roots than when he is in India.
This is Bishoo's first trip here in over seven years. A cricket tour to India is more than just proving his worth as a spinner on helpful pitches. It's an opportunity to delve deeper into finding out more about the land of his forefathers and tracing his ancestry.
And he claims to have discovered a link during the first Test in Rajkot. "My pandit back home, Shamkumar, who studied his vedas in India, had suggested that we came from Gujarat. And from the names I heard in Rajkot, and the fact that it's closer to the sea where they would have taken boats from, I'm more or less sure my family was Gujarati," says Bishoo.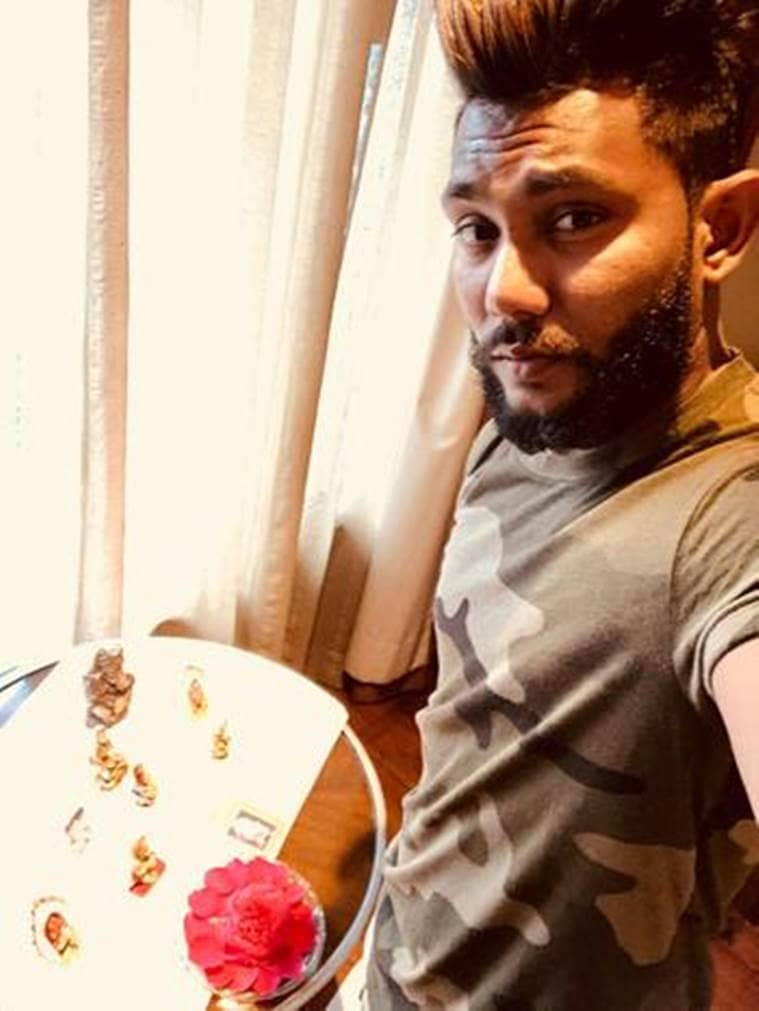 Devendra Bishoo with icons of various Hindu gods and the Hanuman Chalisa.
The Windies spinner also reveals that he was "fasting by avoiding meat" for the next nine days as part of his Navratri ritual. "I also fast for Krishna Jayanti, Hanuman Jayanti and generally on Thursdays," he says. Bishoo, though, is yet to succeed in his longstanding quest of finding out his great-grandfather's "actual name" was, which could give a greater clue to his roots.
"The closest I have come is discovering for sure that Bishoo wasn't our original family name. The British couldn't spell the long Indian names back then. My grandfather took his father's first name, or whatever they called him, and then my father did the same, and along the way it just got messed up," he says with a chuckle. "So what's important to me is following my religion and culture."
READ | Ajink in the armour: Rahane's fading aura
In 2011, during a full-fledged tour here, he went to the Ganges in Kolkata along with fellow Guyanese, Shivnarine Chanderpaul, though his wish was to see the Ganga on the Varanasi side. On that same tour, he also visited the Kapaleeshwaran Temple in Chennai's Mylapore area — as Bishoo puts it, "where Shiva is worshipped in the form of a peacock". His wish-list for holy places to visit include Dwaraka, the Amarnath temple, where "the shivling is formed out of ice", and Kailash.
Going to the temple though is a routine that's been ingrained in Bishoo's life from a young age, so much so, that the new home he's moved into is right across the road from the main temple in his village back home in the town of Albion in Berbice county.
"Back then my mother would compulsorily take me to temple on every Sunday. That's where I learnt the Gayatri mantra. Now, I still walk across to the temple before leaving home or always say a prayer there before entering home upon my return. There are also the usual pujas and havans that I attend there quite regularly while I'm home," says Bishoo, who's played 33 Tests for the West Indies. Bishoo, whose wife is Muslim, says his wedding was done both ways — a nikah followed by the elaborate Hindu rituals — and adds that he never tires of describing the difference in styles to some of his curious non-East Indian teammates.
On Wednesday, the eve of the second Test, there's a puja underway not too far from the Uppal Stadium, the venue in Hyderabad, with mantras being chanted over the loudspeaker. "If he would chant slightly slowly I could understand the whole thing. But they sound the same back home, just like the Hindi bhajans which are popular in Guyana," he says, adding that many Guyanese still go to Hindi-medium schools.
Bishoo says there is no difference in the way Hindu festivals are celebrated in his hometown, and laments about not being in India for Diwali this time around.
"It's a pity as it's falling on my birthday for the first time ever, and I'll be in New York," he says, "I was in India one year during Holi, but unfortunately that was in Chennai where I didn't see anyone celebrating it, or playing with colour like I was used to anyway."