The Judgment by the Allahabad HC stated that the property coming under the central dome legally belonged to the Hindus. The Muslim party had no locus standi in the matter. However, as a compromise solution, the Court suggested a division of the land into three.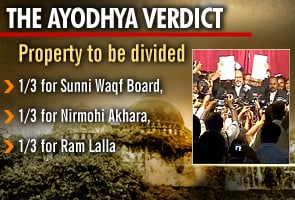 Ayodhya verdict: Allahabad High Court says divide land in 3 ways

www.google.com
All three major litigants were dissatisfied with the Judgment and appealed before SC.
The SC has now suggested that the matter cannot be simply seen as a property dispute (in which case the legal rights would rest entirely with the Hindus) and instead, considering the religious sensitivities involved, mediation be adopted.
I wonder why the Court is now suggesting this method to a centuries old dispute, when opinion has hardened, become intransigent and fossilized.
And if mediation is to be adopted here in view of "religious sensitivity" then why not in the Sabarimala issue? I see double standards here.