Tamil Nadu slips! New stars are sister states Telengana & Andhra are understandable as both vie each other in offering sops for the growth of business!
Andhra, Telangana top in ease of doing biz ranking
October 31, 2016 19:27
---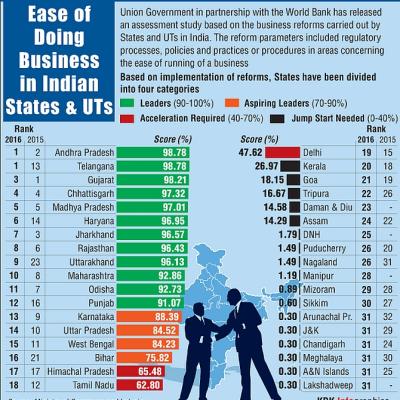 Andhra Pradesh and Telangana have jointly topped the ease of doing business ranking while Gujarat has slipped to the third position in the list prepared by the World Bank and Department of Industrial Policy and Promotion.
Chhattisgarh, Madhya Pradesh and Haryana occupied the fourth, fifth and sixth slots, respectively in the index based on degree of implementation of DIPP's 340-point Business Reform Action Plan.
The Action Plan includes reforms on 58 regulatory processes, policies, practices, or procedures spread across 10 reform areas spanning the lifecycle of a typical business. These are mainly single window clearance, tax reforms, labour and environment reforms, dispute resolution and construction permit.
In 2015 Index, Gujarat featured at the top, with Andhra Pradesh grabbing the second position and Telangana 13th.
As per the latest 2016 Index, those in the list of top 10 states in India providing a better climate for businesses include Jharkhand (7th), Rajasthan (8th), Uttarakhand (9th) and Maharashtra (10th).
Among other major states, Odisha occupied 11th slot, followed by Punjab, Karnataka, Uttar Pradesh, West Bengal and Bihar, Himachal Pradesh, Tamil Nadu and Delhi.
http://news.rediff.com/commentary/2...-biz-ranking/505c948a629a37cc047b1912262cdb99
Last edited: