Ad for a vacuum cleaner sparked a diplomatic incident between Malaysia & Indonesia
Malaysia fighting with Indonesia over a piece of advertisement! Seems the relation is soured far worse than between India and its western neighbour!! LOL!!
[h=1]This ad for a vacuum cleaner sparked a diplomatic incident[/h] By
Ishaan Tharoor
February 6 at 11:22 AM
The Indonesian Embassy in Kuala Lumpur
sent a letter
to the Malaysian Home Ministry protesting an advertisement for a vacuum cleaner.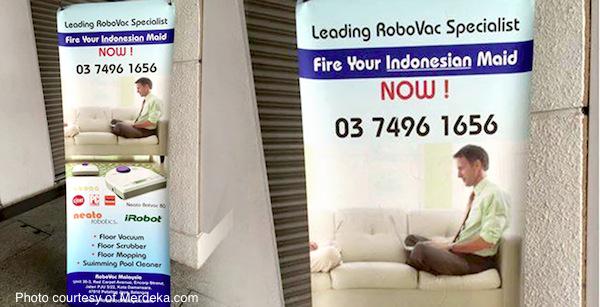 The ad, images of which can be seen on social media, depicts a Western office worker sitting casually at home as a robotic device sweeps the floor around him. "Fire Your
Indonesian
Maid Now!" the ad declares.
There are some 400,000 domestic workers in Malaysia, one of the more affluent Southeast Asian countries. Many of them are from the country's southern neighbor.
"The ad by the private company Robovac is utterly insensitive and demeaning to the people of Indonesia," the Indonesian Embassy said in a statement. "We urge Malaysian authorities to ban the ad." Indonesian officials
indicated
they had contacted lawyers and were considering legal action against the company.
The incident preceded the arrival of recently elected Indonesian President Joko Widodo, embarking on
a five-day introductory tour
through Southeast Asia that began in Malaysia.
Bilateral ties between the two countries have been
strained in the past
over disputes regarding the treatment of Indonesian migrants. After a series of shocking abuse cases, Jakarta
instituted a ban
on Malaysians hiring Indonesian domestic workers in 2009 that was only lifted two years later after concerted wrangling between the two governments.
Indonesia has a huge population of migrant laborers working in other countries in the region. Domestic workers are often subject to discriminatory laws and are particularly vulnerable to mistreatment, with
reports of torture
and abuse tragically common.
Earlier this week, RoboVac's
Web site was hacked
. The hackers posted a message on the site: "Please be nice to our sisters, they have family, they have kids. … Your advertisement is not very funny at all."
This ad for a vacuum cleaner sparked a diplomatic incident - The Washington Post