Retired bureaucrat
Harsh Mander
is an ambassador of peace. His Karwan e Mohabbat set out from Nellie in Assam, where thousands were killed in 1983 massacres, to the homes of Junaid and cattle trader Pehlu Khan who were killed in mob lynchings two years ago.
Mander,
below
, put in his papers after the 2002 Gujarat riots as he felt there was administrative complicity in the post-Godhra train burning carnage.
At present he runs the Centre for Equity Studies which was served with an income tax notice by the Narendra Damodardas Modi government after Karwan e Mohabbat gathered momentum and popularity.
"The last few years it has been demonstrated to me that there is a greater degree of radicalisation of the Hindu mind and heart," Mander, author of a new book,
Partitions of the Heart: Unmaking the Idea of India
, tells
Rediff.com
's
Syed Firdaus Ashraf
.
After reading your book it looks like the concept of secularism has never been taken seriously in India even by the secular parties. How did we come to this stage?
India is right now passing through very difficult times. India is not as divided today since the assassination of Mahatma Gandhi. Muslims and Christians have been reduced to a situation in which they are living in fear.
'Most Hindus believe in living in peace with their Muslim neighbours and vice versa.'
'It is this India we have to preserve.'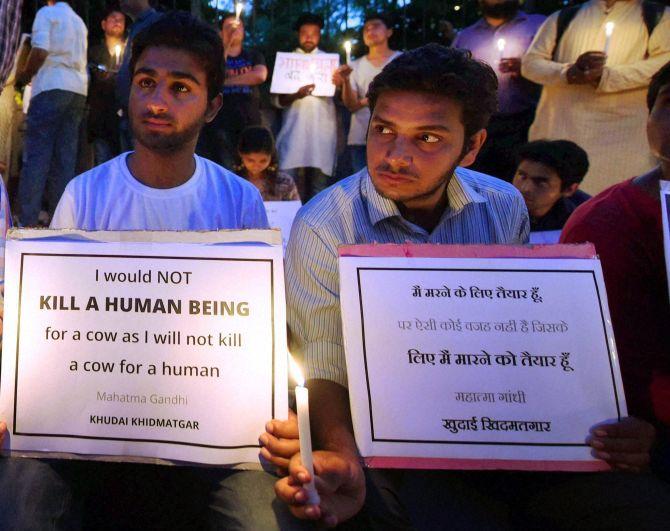 'Most Hindus believe in living in peace with their Muslim neighbours and vice versa.' 'It is this India we have to preserve.' | 'A majority of Hindus do not approve of hate'